Thank you to Stephenson National Bank, for a year-end contribution of $3,000 to Rainbow House!  We are grateful for your continued support of our mission.  The funding will go towards our collaborative partnership with law enforcement.  We will be placing forensic evidence cameras with police departments throughout Marinette County to ensure domestic abusers are held accountable in the criminal justice system.
Through this contribution, we are able to provide cameras for collecting forensic evidence in domestic violence cases to local law enforcement throughout Marinette County.  These cameras take RAW images, which can be processed through our new Secure Digital Forensic Imaging software.   Now, previously undetected evidence, such as bruising under the skin, can be used in the prosecution of perpetrators of violence.  Thank you, Stephenson National Bank and Trust, for helping to make our community safer.
Pictured are Marinette County Legal Advocate, Joette Koronkiewicz, presenting a camera to Detective Sergeant Ben Matzke.  Five cameras were acquired through this contribution.  These will be distributed to departments throughout the county, now that they have arrived.  We appreciate SNBT's ongoing support of our work!
Community Outreach
We are here for you today and every day thereafter to support our community and grow together. Through the examples below, SNBT is helping make a difference in our communities.
Community Focus
Our commitment to being a community partner extends beyond the financial contributions made by the bank.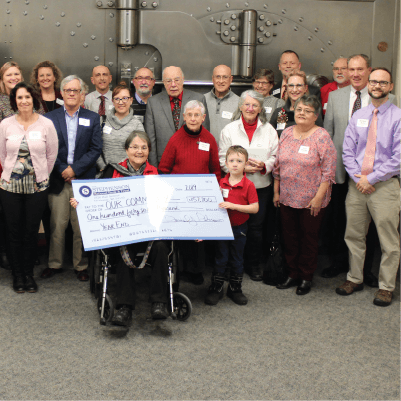 Charitable Giving
Bank Contributions: SNBT supports almost 200 area organizations with over $200,000 in annual contributions.
Employee Contributions: SNBT employees themselves make monetary donations to the causes dear to their hearts.
Employee Volunteer Pledge: Staff pledged over 5,000 hours of community service this year and well over 138,000 hours since the year 2000.
Scholarship Awards: SNBT awards scholarships totaling over $14,000 annually to local high school and college students.